Happy Hump Day to all!
It's "What Do You Want Wednesday" over here again.
To recap, last week I said I wanted a particular cupcake, and let me tell you, I got it. Actually I got 4.
Go ahead.
Judge me.
They were fabulous. The cake was chocolate and the frosting was a buttercream with a hint of strawberry. On top was a big ole fat chocolate-covered strawberry and inside…inside was a creamy, chocolatey filling complete with fresh, diced up strawberries. Let me tell you– it was heaven. Have I mentioned that I never even liked cupcakes until I found A Cookie and A Cupcake?
I think that says it all.
Last week I also said that I wanted peace. And I said that it would start with a large, hot mug of tea.
And it did.
And then it almost came crashing down when Denver jumped on the table because he decided that he wanted some tea too.
I didn't catch his leap on camera, but his "What'd I do?" face is almost as good, right?
***
So I achieved last weeks wants– cupcakes and peace…pretty self-indulgent, I guess.
And now Wednesday is here again and gosh darn it, I have another self-indulgent want!
This sweater from Urban.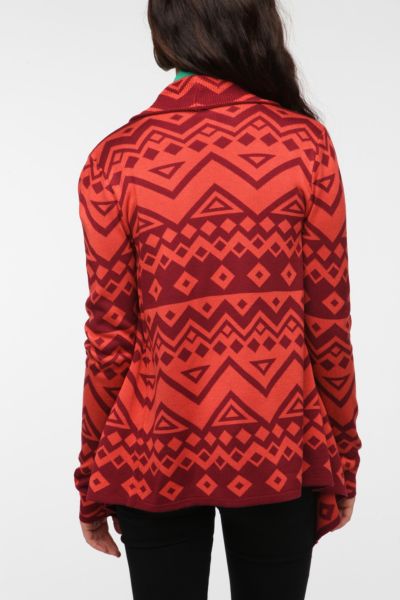 Okay, so I don't know if this is a want that I should follow through on, since you know, it costs money and you know, I'm poor grad student.
Also, this:
It's true.
I haven't gotten into my clothing hoarding with you guys yet, but holy cow, I love clothes.
Cheap clothes. Expensive clothes. Comfy clothes. Fancy clothes. Hippie clothes. Professional clothes. Sexy clothes. Cozy clothes. Trendy clothes. Vintage clothes. Thrifted clothes.  I tried this morning and I'm totally polished and put-together clothes. I didn't try this morning but I still look put-together clothes. Neutral-toned clothes. Bold, vibrant, patterned clothes. Mixing textures clothes. Mixing patterns clothes. Rustic clothes. This outfit calls for brown leather boots clothes. This outfit deserves a great pair of heels clothes. Work-out clothes. Breezy, summer clothes. I mean the list goes on an on.
I. Love. Clothes.
Now you know– besides cupcakes, clothes are my weakness.
***
Okay, so I want the sweater. And I honestly can't think of something more important or less self-centered than that right now, so I'll leave it at that.
And even though this is a Wednesday post, I'm writing this on Tuesday night.
And my homework is done.
And now my blog post is done.
So now that I think about it, I want a glass of wine.
Yeah, I know. Another selfish want.
And technically, it's not even Wednesday.
Deal.
I'm gonna go make it happen.
What do you want?
Until next time.
~Steph